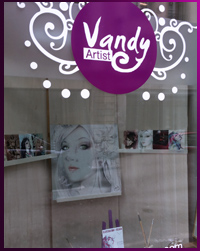 I started painting when I was only 8 years old, not out of passion, but only after some of my friends forcefully dragged me along. At that time, I already enjoyed drawing and coloring (inside the lines) in my countless coloring books. It was to my own surprise that I found myself quite enjoying those Saturday morning classes.
As years passed, my own mother decided to try and found herself to be one admirable artist. I was very proud of my mother's talent and wished I could paint like her, one day. I followed closely her career, as she became a well-known artist in town. That was one good role-model, right? Her painting classes had impressively long waiting lists, and for many years she managed to live out of her own art. That was a dream. I wanted to follow her steps and do just the same.
Today, I can say with pride that I've followed my mother's steps, and unknowingly realized one of her dreams. It's only recently that she shared with me her thought of having her own workshop. I never imagined that I would be the first one to walk that path, but here I am.
I have great plans for this place, and really hope that I can share my passion with many other people and. who knows, inspire someone new.